New Light – 1918, before and after
Light & Glass Announcement of the Yearly Meeting
26th – 29th April 2018
Museum for Applied Arts, Prague CZ
www.upm.cz
Bitte scrollenn sie runter für den Deutschen Text

This year we will have the pleasure of meeting in the newly renovated Museum for Applied Arts in Prague CZ. In addition to visiting the Museum, we are planning visits to a couple of other buildings of interest in the city. The city of Prague has earned many names, "The Golden City", "The City of a Hundred Spires", also "Paris of the East" because of the abundance of Art Nouveau.  Containing one of the world's most pristine and varied collections of architecture, from Romanesque, to Gothic, Renaissance, Baroque, Rococo, Neo-Renaissance, Neo-Gothic, Art Nouveau, Cubist, Neo-Classical and ultra-modern, it has something for everyone. As this is a rather wide time and style-span, we have decided to limit our focus this year to the era starting with the first electrical light in 1885, Art Nouveau around 1900 and the time surrounding the end of the 1st World War in 1918. This, however, does not mean that we will ignore the previous eras of lighting history.
For many of us, 1918 does not sound like ancient history and it is hard to believe that 100 years have already passed since the end of the 1st World War changed the face of Europe and indeed the entire world. At this time, electricity was still not found in every home and there were a great many changes in industry, culture and politics affecting everyone's lives. Our theme will therefore concentrate on the various changes that occurred 100 years ago in regards to lighting our homes and public spaces. In a relatively short space of time we have lived to see another wave of change with the new developments in lighting in recent years that will certainly continue beyond 2018.
First Call for Papers! We would like to invite lectures pertaining to our theme as outlined above from researchers, restorers, experts from the glass/lighting industry and other interested parties. Please send your proposal for a lecture before March 9th 2018 with an outline of approx. 200 – 500 characters in German or English to the Secretary at office@lightandglass.eu and Mr. Peter Rath will reply in due course.
Please also register your intention to attend with our secretary at office@lightandglass.eu
The official language of the meeting will be English, however German presentations are also welcome. In the event that you will be presenting in German, translations of the main topics would be appreciated by our non-German speaking colleagues. In the event that you require help with a translation, please contact the Secretary.
If you have never visited Prague before, we warmly recommend that you book an extra day or two, there is so much to see and do and our program will be too full to allow other sight-seeing.  Tuesday is the 1st of May and a holiday in Continental Europe and therefore and excellent opportunity to take the Monday free!
More Information regarding the program details and hotel recommendation will be published as soon as possible!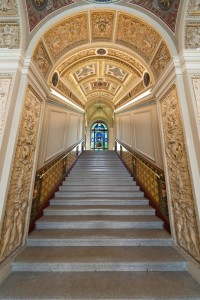 Neues Licht – 1918, bevor und danach
Light & Glass Annonce, Jahrestreffen
26. – 29. April 2018
Museum für Angewandte Kunst, Prag CZ
www.upm.cz
In diesem Jahr werden wir uns im neu renovierten Museum für angewandte Kunst in Prag CZ treffen. Neben dem Besuch des Museums planen wir Besuche in einigen anderen interessanten Gebäuden der Stadt.  Prag hat viele Namen bekommen, "Die goldene Stadt", "Die Stadt der hundert Türme", auch "Paris des Ostens" wegen der Fülle des Jugendstils. Diese Stadt hat eine der originellsten und vielfältigsten architektonischen Sammlungen der Welt, von Romanik über Gotik, Renaissance, Barock, Rokoko, Neorenaissance, Neugotik, Jugendstil, Kubismus, Neoklassizismus bis hin zu hochmodern, sie hat für jeden etwas zu bieten. Da es sich dabei um eine ziemlich große Zeit- und viele Stilrichtungen handelt, haben wir beschlossen, uns dieses Jahr auf den Beginn der Elektrifizierung 1885, Jugendstil um 1900, das Ende des Ersten Weltkriegs 1918 und auf die Zeit ein wenig danach zu beschränken. Dies soll jedoch nicht die vorangegangenen Zeiten ausblenden.
Für viele von uns klingt 1918 nicht nach alter Geschichte. Es ist schwer zu glauben, dass 100 Jahre schon vergangen sind seit dem Ende des Ersten Weltkrieges der das Gesicht Europas und der ganzen Welt verändert hat. Zu dieser Zeit war Elektrizität noch immer nicht in jedem Haushalt zu finden und es gab viele Veränderungen in der Industrie, Kultur und Politik, die das Leben aller betrafen. Ein Thema wird sicher ein Blick auf die verschiedenen Veränderungen, die vor 100 Jahren in Bezug auf die Beleuchtung unserer Häuser und öffentlichen Räume stattgefunden haben sein. In relativ kurzer Zeit haben wir mit den neuen Entwicklungen der LED in der Beleuchtung in den letzten Jahren eine weitere Welle des Wandels erlebt, die sicher weitergehen wird.
Erster Aufruf für Vorträge! Wir möchten zu diesem Thema Vorträge von Forschern, Restauratoren, Experten aus der Glas- / Lichtbranche und anderen Interessierten einladen. Bitte senden Sie Ihren Vorschlag für eine Vorlesung vor dem 9. März 2018, mit einer Zusammenfassung von ca. 200 – 500 Zeichen in Deutsch oder Englisch an das Sekretariat: office@lightandglass.eu . Herr Peter Rath wird sich dann mit Ihnen in Verbindung setzen.
Bitte melden Sie beim Sekretariat an, wenn sie Beabsichtigen an der Jahresversammlung teilzunehmen: office@lightandglass.eu
Die offizielle Sprache des Treffens wird Englisch sein, aber auch deutsch sprachige Präsentationen sind willkommen. Für den Fall, dass ihr Vortrag auf Deutsch sein wird, würden Übersetzungen der Hauptthemen von unseren nicht deutschsprachigen Kollegen geschätzt. Wenn Hilfe dazu benötigt wird, ungeniert sich beim Sekretariat für Unterstützung melden.
Wenn Sie Prag noch nie besucht haben, können wir Ihnen nur wärmstens empfehlen, dass Sie einen oder zwei zusätzliche Tage buchen, es gibt so viel zu sehen und unser Programm wird zu voll sein um andere Sehenswürdigkeiten sonst zu besuchen. Dienstag ist der 1. Mai und ein Feiertag in Kontinentaleuropa und deshalb ein ausgezeichnete Gelegenheit, den Montag frei zu nehmen!
Mehr Details betreffend dem Programm und der Hotel Empfehlung werden so bald als möglich veröffentlicht!