Weihnachten darf wieder im Jägerhof stattfinden, vorsichtig zwar mit wenigen ausgesuchten Volkskünstlerinnen und Volkskünstlern und ohne das übliche Veranstaltungsprogramm, dafür aber mit allen prächtig geschmückten Weihnachtsbäumen – einer schöner als der andere – und einer aufwändig gestalteten Sonderausstellung.
mit Publikation zur gleichnamige Ausstellung und Blog Eintrag. Ein Link ist auf der Webseite zu finden um das Buch zu bestellen
Bitte sehen Sie die Webseite an für alle Information. Bitte beachten Sie auch die Corona Restriktionen, die können sich ändern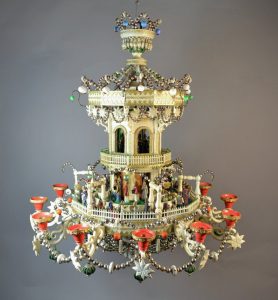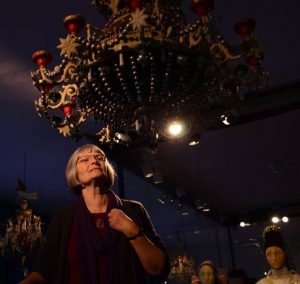 https://volkskunst.skd.museum/von-spinnen-engeln-und-dem-licht-der-welt-die-kronleuchter-des-erzgebirges/
English Version:
Christmas may once again take place in the Jägerhof, albeit carefully with a few selected folk artists and without the usual programme of events, but with all magnificently decorated Christmas trees – one more beautiful than the other – and an elaborately designed special exhibition.
With accompanying publication to the Exhibition! A link is on the webpage to order the book. – And a blog featuring Käthe Klappenbach.
Please see the website via the link above for all information and check opening times, in times of Corona things can change quickly!