Scroll down for English:
Über die Gesellschaft: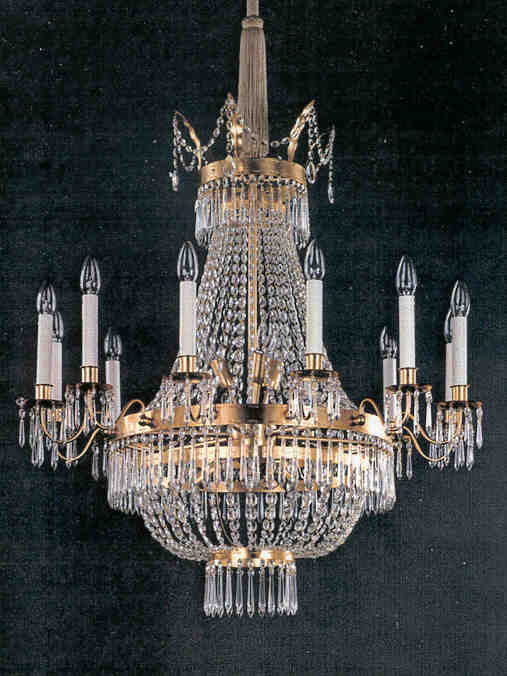 "LIGHT and GLASS – Europäische Gesellschaft und Dokumentationszentrum für Kronleuchter, Licht und Glas" wurde als gemeinnütziger, nicht gewinnbringender Verein im Mai 2000 gegründet in Steinschönau (Kamenický Šenov), dem kleinen Nord-Böhmischen Dorf dass das alte Zentrum der Böhmischen Lüster Produktion ist.
Die Gesellschaft ist registriert im Tschechischen Vereinsregister beim Bezirksgericht in Ústí nad Labem, mit Bestätigung von dem Steuerbüro in Nový Bor.
LIGHT and GLASS ist gemäß ihren Statuten, ein Verein mit einer Plattform zur Erforschung der hochwertigen historischen Kronleuchtern und Beleuchtungskörper, einem bis heute noch stark vernachlässigtem Thema.
Diese Plattform soll  ein Treff / Forum für Kunsthistoriker, Forscher, Museen, Schlösser, Kirchen, Restauratoren, Antik-Händler, Sammler und anderen interessierten sein und dazu dienen Informationen auszutauschen und sich untereinander zu Vernetzten.
Die bis heute bestehende Informationsbasis für dieses typisch europäische Kulturgut ist sehr spärlich. Noch gibt es nur sehr wenig publizierte Literatur zu diesem Thema.
Eines von den aktuellsten fachlichen Werken das gedruckt würde zum Thema Kronleuchter, ist der Bestandskatalog "Kronleuchter " Kronleuchter mit Behang aus Bergkristall und Glas sowie Glasarmkronleuchter bis 1810 (Berlin 2001), geschrieben von einem Gründungsmitglied unserer Gesellschaft, Frau Dr. Käthe Klappenbach von der Stiftung Preußische Schlösser und Gärten Berlin-Brandenburg. Das Buch ist inzwischen Vergriffen und nur noch antiquarisch erhältlich, zur Zeit arbeitet Frau Dr. Klappenbach intensiv an einem zweiten Band. Wir werden nach der Veröffentlichung darüber berichten.
In vielen Museen, Schlösser etc. werden bis heute die Leuchter und historischen Beleuchtungskörper leider nicht beschrieben. Entweder sind diese Informationen nicht bekannt oder der Kurator findet diese nicht erwähnenswert. Für den Besucher wäre doch interessant: Was für eine Art von Leuchter es ist, wer hatte wann und bei wem diese Beleuchtungskörper produzieren lassen, aus welchen Materialien wurden diese hergestellt. Diese Angaben fehlen vielleicht auch weil das Wissen dazu noch fehlt oder sich niemand wirklich dafür verantwortlich fühlt. Gehören die historischen Beleuchtungskörper nun zu den Möbelstücken, zu den repräsentativen Dekorationsobjekten, oder zu den…? Mit unserer Arbeit versuchen wir das Bewusstsein zu fördern und diese Lücke zu füllen für dieses wundervolle Kulturgut.
Es sollten Regionale Listen erstellt werden von den Orten an welche solche Schätze noch vorhanden sind oder waren und dazu mit möglichst vielen Informationen über die Herkunft der historischen Beleuchtungskörpern ergänzt werden.
Von uns in Arbeit ist ein Wörterbuch in verschiedenen Sprachen zu den Begriffen der Kronleuchter und deren Bestandteilen, als Hilfe zur besseren Beschreibung der Leuchter.
Des weiteren werden benötigt, detaillierte Beschreibungen der ursprünglichen Konstruktionsprozesse der Kronleuchter und Leuchter damit dieses Wissen erhalten bleibt und Grundlagen für weitere Forschungen bieten kann.
Es findet ein Jährliches Treffen mit Seminar und Vorträgen statt. In den ersten Jahren wurden die Berichte gedruckt, heute werden die Informationen auf dem Internet publiziert um ein möglichst breites Interesse Gemeinschaft anzusprechen.
Ziel der Gesellschaft sind:
Erfassung wissenschaftlicher Unterlagen für die Herstellung, Anfertigung und Erhaltung historischer Kronleuchter, genauso wie ihre professionelle Restaurierung.
Erfassung aller damit verbundenen fachlichen Informationen, vor allem in Hinblick auf ihren Wert als Teil der Weltkunstgeschichte.
Sammeln von Informationen und Daten, Dokumentierung von Daten (Texte, Fotos, Filme, Gesprächen usw.) und Verweisen auf Sammlungen und Archive historischer Original-Kronleuchter.
Realisierung von Forschungsprojekten über historische Kronleuchter und Glas.
Entwicklung der Zusammenarbeit und Knüpfen von Kontakten in der ganzen Welt.
Organisation von Fortbildung und Schulungen.
Veranstalten von Präsentationen und Ausstellungen sowie Publikationstätigkeit.
Zu den aktiven Mitgliedern der Gesellschaft gehören Fachleuchte die auf der ganzen Welt tätig sind, sowie Direktoren von bekannten Museen.
Jedermann ist herzlich eingeladen, Artikel und Hinweise zu historisch interessanten Kronleuchtern und anderen Beleuchtungen an uns zu senden, sowie Hinweise zu Publikationen, Büchern oder Ausstellungen. Diese Berichte und Anregungen zur Webseite sind an unser Büro: office(at)lightandglass.eu zu senden.
Um finanzielle Unterstützung wird gebeten, entweder als zahlendes Mitglied oder als Spender von Beiträgen damit wir unsere Arbeit zum Gemeinwohl vorsetzen können.

About the Society:
"LIGHT and GLASS – European Society and Documentation Centre for Chandeliers, Light and Lighting", was founded as a philanthropic, non-profit Society in May 2000 in the small old centre of the Austro-Bohemian chandelier production of Steinschönau (Kamenický Šenov) in Northern Bohemia.
The Society is registered in the Czech Register of Associations at the district court in Ústí nad Labem, with the confirmation of the Tax office in Nový Bor.
LIGHT and GLASS in accordance to its statutes, is the platform for research for high quality lighting and chandeliers, a subject that has been greatly neglected to date. This platform is intended to serve museums, palaces, churches, antique dealers, collectors and other interested parties and aid them in networking with each other and share information.
The existing information base for this typical European cultural element is very scant, there is very little literature on the subject. One of the more recent factual works published to date specifically about chandeliers is the oeuvre magnum "Kronleuchter" (Berlin 2001) from one of our founding members, Dr. Käthe Klappenbach from the Prussian Palaces and Gardens Foundation Berlin-Brandenburg. This book is now out of print and only available through antique book-dealers. At this time Dr. Klappenbach is working intensely on a Second Volume. We will notify members when this is published.
To date in many museums, palaces, etc. the lamps and other historic lighting pieces are unfortunately not described in the information texts. Either information about these objects is unknown or the curator doesn't find it worthy of mention. For the visitor however, this would be interesting; what kind of a lamp is it? Who made it, out of which materials, when and where? This background information is missing perhaps due to lack of knowledge in general or simply because no one was responsible for it – do the lamps belong to the category furniture, or decoration or ….? Our work attempts to raise the level of awareness for and about this wonderful part of our cultural history.
Needed are lists from the various regions with inventories of interesting historic lighting pieces and the places where such treasures still exist. As much information as possible as to where the specific units originated from should be included in the list. Detailed descriptions of the original construction processes aid in preserving this knowledge for future generations and serves as a basis for further research.
One of our works in progress is a Dictionary with technical names for Chandeliers and their parts, intended to aid researchers as well as the lay-man in making detailed descriptions of Lighting pieces.
Every year Light and Glass hosts a meeting with Seminars and presentations. In previous years these reports were printed, in recent years the information is published on our website in order to reach as wide a public as possible.
Aims of the Society:
Collection of scientific data for the production, preparation and preservation of historic chandeliers, as well as their professional restoration.
Collection of documentation (texts, illustrations, films, interviews etc.) and tips to collections and archives regarding valuable original lighting pieces
The collection of related factual information mainly in respect to their value as part of our European art history.
Scientifically based research projects pertaining to chandeliers and glass
Development of cooperation and contacts in the entire world.
Organization of education and training.
Presentation, exhibition and publications
The Society serves members who are active around the world, including directors of well known museums and other experts.
Everyone is warmly invited to submit articles and tips to historically interesting chandeliers and other lighting objects to us. Tips to publications, books or exhibitions are also very welcome. These reports and suggestions are to be forwarded to our secretary at: office(at)lightandglass.eu
For any financial support received we are most grateful, whether as a paying member or in the form of a more substantial donation which would enable us to continue with the aims of the Society.