bitte runterscrollen für Deutsch.
The European Society was permitted a grand re-start to the Yearly Meetings, with our gathering in Lisbon at the Palacio Nacional da Ajuda. After two postponements, we were finally able to enjoy the hospitality of our valued colleagues at the Palacio da Ajuda in Portugal.
We are most thankful to José Alberto Ribeiro, the director of the Palacio da Ajuda for the invitation to visit the Palacio. We could not have done it without our wonderful partner Maria João Burnay and her associates, such as; Maria José Tavares who led us on a tour of the Palace, Fatima Patacho, whose work in making the chandeliers sparkle for our visit was duly noted, Manuela Santana, Eugenia Vidal, and the trainees, Alexandra Santos and Patricia Moreira. Director Antonio Nunes Pereira from the Sintra Palaces is to be thanked for the invitation to Sintra, also our tour guides in Pena, Nuno Gaspar and his colleague Nuno. Thanks also to Claudio Marques who gave us the tour of Sintra Palace.
Our most heartfelt thanks are due to all of you!
We were able to exchange ideas and plans in our lecture series Speaker Programme Eng, as well as during evening dinners and the excursions.  As Rob van Beek so well mentioned: "I've learned a lot from all you guys!" Indeed, we all have learned so much from one another.
Members met on Thursday, June 23rd in the great Hall of the Palacio da Ajuda for the opening and a keynote lecture by:
Maria Joao Burnay with her colleagues on the incredible restoration work in the Blue Room. This was followed up by the first lectures –
Peter Rath on the Golden Hall in the Vienna Musikverein – dimmed down chandeliers for music.
Kristine Budze from Rundale Castle, Latvia, gave insight into the restauration of a 18th Century Bohemian Glass-arm chandelier.
Regina Friedl and Rudi Göttlich  showed their work on a scientific restoration, instead of a merely functional repair of an early crystal chandelier from Schönbrunn.
Michael Vasku with his partner Andreas Klug brought a stunning presentation of Preciosa executed modern interactive chandeliers.
Rob van Beek gave us a vision of the present situation of light sources and their behaviour.
After a good start to our programme, the day ended with dinner together in the old town, at the Casa do Alentejo, a historic restaurant with a hall.
On Friday our group was taken to Palacio da Pena near Sintra. The palace which was built in 1838 after the great earthquake of 1828 had destroyed the old monastery. The tour was full of historical details, noting the colours red and yellow, typical for the neo-baroque castle. Outstanding are the wide gardens, the park with rare trees brought from South America which thrive in the special microclimate in the area.
In the afternoon, further to the Palacio National da Sintra, which was the summer residence of the Kings of Portugal since the 15th C.. The palace had been restored twice after earthquakes and is dominated by two huge cone chimneys over the kitchen. Wonderful interiors which are famous for their coloured tiles (azulejos). The great Hall of the Swans and the Antechamber of the magpies, with painted ceilings and with interesting chandeliers.
On Saturday, before starting the lectures, we toured the Palacio da Ajuda, ending in the huge storage rooms with shelves upon shelves filled with stemware and other glass treasures which were intended for the Royal banquets.
The first lecture, back in the Hall of Palacio da Ajuda came from:
Catarina Villamariz who showed the fascinating collection of 17th Century hanging glass oil-lamps from the monastery of Sao Joao de Tarouca, Portugal in two characteristic shapes, she described the glass composition and the archaeological finds of lamps from the 11th Century.
Alanté Valtaite-Gagac, who had published an inventory of chandeliers in Lithuania and Latvia, spoke on the sixteen 16th and 17th Century brass chandeliers that still survive and about the symbolism of the eagles that appear on so many chandeliers of this type.
Karel Kanak brought along a collection of candle snuffers/wick trimmers and lectured on styles and dates of certain simple and of highly artistic shapes. Starting in the 13th Century of iron to the 16th Century using the Dinant-Bronze. A snuffer is a right-hand tool.
Käthe Klappenbach spoke about chandeliers in Lutheran churches in the Ore Mountains in Saxon. These  were acquired in nearby Bohemia starting at the end of the 17th century and especially during the 19th century. They were then donated to the churches. These chandeliers were direct models for the Christmas chandeliers created in Seiffen.  The craftsmen used only materials available to them, this being mainly wood.
Bettina K. Schneider reports on a very badly damaged, probably Saxon glass-armed chandelier of the 18th century. She conserved it and utilized unusual methods so that it could be preserved and used to represent the metamorphosis of the courtly chandelier into one from the Ore Mountains in the Dresden exhibition "Von Spinnen, Engeln und dem Licht der Welt – Die Kronleuchter des Erzgebirges". The Dresden artist, Friederike Curling-Aust, supplemented and completed the chandelier with typical Erzgebirge figures.
Bettina Levin spoke of a collection of glass-pearl-chandeliers from the Erzgebirge partly used as Christmas decoration. The beads, partly hollow and with inside silvering came from Gablonz and Eisenbrod. The fashion was again taken up in the 1950's.
Antonio Cota Fevereiro gave a review of the wide collection of the oil and petrol Lamp collection of the Palacio National da Ajuda. The lamps having travelled with the Royals, samples of Proust-lamps from 1780, Argand and Quinquet, Carcel, Astral, Sinumbra and Moderateur-lamps of 1836 with glass balls and funnels. Then since 1853, lamps using petroleum from USA. Lamps are mounted on glass and porcelain vases.
Jan Mergl made a short presentation regarding the importance of 200 years of glass and chandeliers produced in Bohemia for the Vienna Lobmeyr company, in 2023 celebrating their jubilee. First examples of 1842 in the Vienna Science-Museum, the importance of the World Exhibitions in London, Paris, Antwerp and Philadelphia. Designed by famous artists of the time, manufactured in factories like Harrachsdorf, Blumenbach and Gablonz.
Following the lectures, the General Assembly Meeting 2022 took place (as to the minutes published Protocol General Meeting 25th June 2022). President Helena Koenigsmarkova gave her report pointing out the project of Crystal Valley, members activities and finally the invitation to hold our next Annual Meeting in 2023 in Vienna at the Museum of Applied Arts, with the exhibition on 200 years Lobmeyr. The Prague Museum of Applied Arts UPM will also stage such an exhibition. The idea of a printed flyer for the Society to attract new younger members was discussed. An appeal to encourage others to begin an inventory of valuable chandeliers in each of our member countries, such as has been done in Lithuania and currently in Austria.
The 2022 Meeting ended with special thanks to our hosts, especially to Maria João Burnay who made so much of this year's meeting possible.
A fitting finale was enjoyed by all in the nearby Restaurant Espaço Açores, with fine dining and good spirits.
Reporting from Peter Rath and Christina Perrin
Below please find some photos of the weekend ;
Our conference in a setting fit for a queen.
Wonderful dinners with good food and friendly service.
Trip with tours at the Pena and Sintra Palaces, as well as a few photos of the Palacio da Ajuda.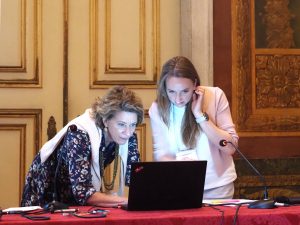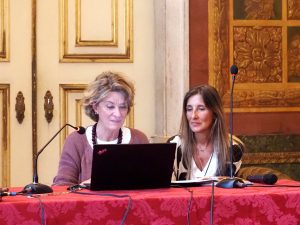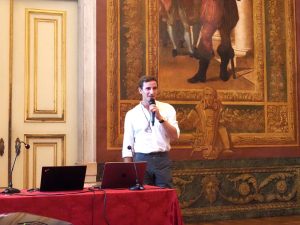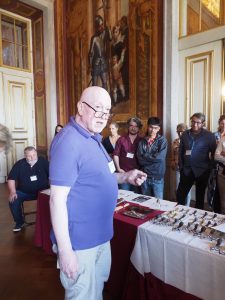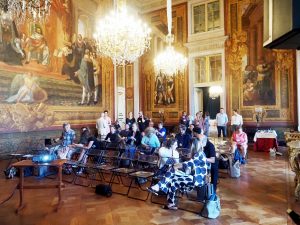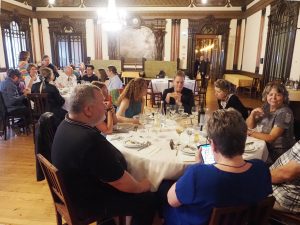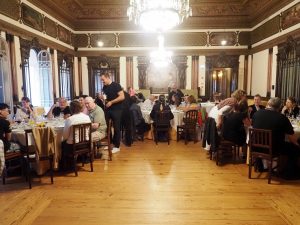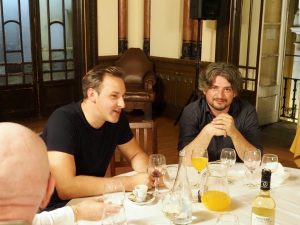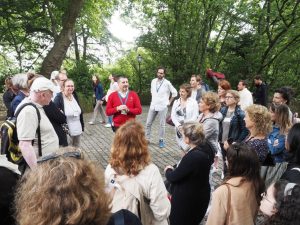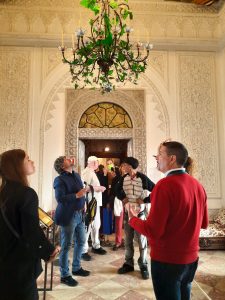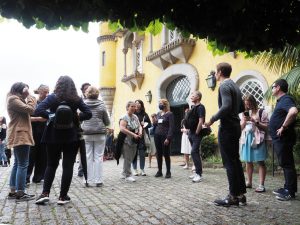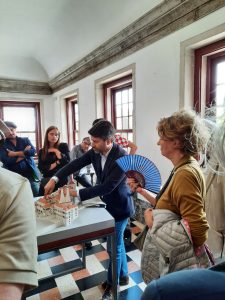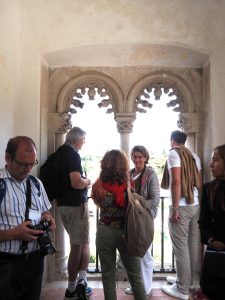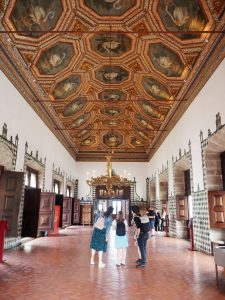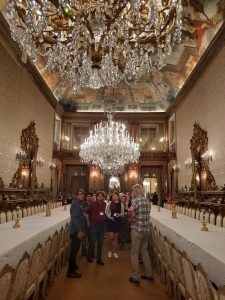 BERICHT ÜBER DIE JAHRESTAGUNG VON LICHT & GLAS vom 23. bis 25. Juni 2022 IN LISSABON
Die Europäische Gesellschaft durfte ihre Jahrestagung, mit dem Treffen, in Lissabon im Palacio Nacional da Ajuda durchführen. Nach zwei Verschiebungen konnten wir endlich die Gastfreundschaft unserer werten Kollegen aus Portugal, im Palacio genießen.
Besten Dank für die Einladung des Direktors des Palacio da Ajuda, José Alberto Ribeiro.
Ohne unserer wunderbaren Partnerin Maria Joao Burnay und ihrer Kollegen hätten wir das nicht geschafft. Maria José Tavares, die uns durch den Palast führte, Fatima Patacho, ihrer behutsamen Reinigungsarbeiten an den Leuchtern, die von unserer Gruppe wohl bemerkt wurden, Manuela Santana, Eugenia Vidal und die Praktikantinnen Alexandra Santos und Patricia Moreira. Direktor Antonio Nunes Pereira von den Sintra-Palästen ist zu danken für die Einladung nach Sintra, sowohl unseren Tour Leitern in Pena, Nuno Gaspar und seinem Kollegen Nuno. Vielen Dank auch an Claudio Marques, der uns durch den Sintra-Palast geführt hat.
Ihnen allen gebührt unser herzlicher Dank!
In unserer Vortragsreihe Vorträge Programme DE, bei den Abendessen und den Ausflügen konnten wir Ideen und Pläne austauschen. Wie Rob van Beek so schön sagte: "Ich habe eine Menge von euch allen gelernt!" In der Tat haben wir alle sehr viel voneinander gelernt.
Die Mitglieder trafen sich am Donnerstag, dem 23. Juni, im großen Saal des Palacio da Ajuda zur Eröffnung und zum Hauptvortrag von:
Maria João Burnayund ihren Kollegen über die unglaublichen Restaurierungsarbeiten im Blauen Saal. Im Anschluss daran folgten die ersten Vorträge;
Peter Rath über den Goldenen Saal im Wiener Musikverein – abgedunkelte Kronleuchter für die Musik.
Kristine Budze von Schloss Rundale, Lettland, gab einen Einblick in die Restaurierung eines böhmischen Glasarmleuchters aus dem 18. Jh.
Regina Friedl und Rudi Göttlich konnten ihre wissenschaftliche Restaurierungsarbeit aufzeigen, die sie ausführten, anstelle bloß nur einer funktionalen Reparatur eines frühen Kristalllüsters aus Schönbrunn.
Michael Vasku und sein Partner Andreas Klug zeigten eine atemberaubende Präsentation von Preciosa ausgeführten modernen interaktiven Kronleuchtern.
Rob van Beek gab uns einen Überblick über die derzeitige Situation der Lichtquellen und ihr Verhalten.
Nach einem guten Start in unser Programm, endete der Tag mit einem gemeinsamen Abendessen in der Altstadt, im Casa do Alentejo, einem historischen Restaurant mit Saal.
Am Freitag, wurde unsere Gruppe zum Palacio da Pena in der Nähe von Sintra geführt. Der Palast wurde 1838 erbaut, nachdem das große Erdbeben von 1828 das alte Kloster zerstört hatte. Die Führung war voller historischer Details, wobei die für das neobarocke Schloss typischen Farben Rot und Gelb auffielen. Hervorzuheben sind die weitläufigen Gärten und der Park mit seltenen, aus Südamerika eingeführten Bäumen, die in dem besonderen Mikroklima der Gegend gedeihen.
Am Nachmittag ging es weiter zum Palacio National da Sintra, der seit dem 15. Jh. Die die Sommerresidenz der Könige von Portugal war. Der Palast wurde nach Erdbeben zweimal restauriert und wird von zwei riesigen kegelförmigen Schornsteinen über der Küche dominiert. Wunderschöne Innenräume, die für ihre farbigen Fliesen (Azulejos) berühmt sind. Der große Saal der Schwäne und das Vorzimmer der Elstern mit bemalten Decken und interessanten Kronleuchtern.
Am Samstag, vor Beginn der Vorlesungen, besichtigten wir den Palacio da Ajuda und endeten in den riesigen Lagerräumen, in denen sich Regale über Regale mit Stielgläsern und anderen Glasschätzen befinden, die für die grossen Bankette des Königshauses waren.
Der erste Vortrag, wieder im Saal des Palacio da Ajuda, kam von:
Catarina Villamariz zeigte die faszinierende Sammlung von hängenden Glas-Öllampen aus dem 17. Jh. aus dem Kloster Sao Joao de Tarouca, Portugal, in zwei charakteristischen Formen, beschrieb die Glaszusammensetzung und die archäologischen Funde von Lampen aus dem 11 Jh.
Alanté Valtaite-Gagac, die ein Inventar der Kronleuchter in Litauen und Lettland veröffentlicht hatte, sprach über die sechzehn noch erhaltenen Messinglüster aus dem 16. und 17 Jh. und der Symbolik der Adler, der auf so vielen Leuchtern in dieser Art zu finden ist.
Karel Kanak brachte eine Sammlung von Kerzenlöschern/Dochtschneidern mit und referierte über Stile und Daten bestimmter einfacher und sehr kunstvoller Formen. Beginnend im 13. Jahrhundert mit Eisen bis zum 16. Jahrhundert mit Dinant-Bronze. Ein Löscher ist ein rechtshändiges Werkzeug.
Käthe Klappenbach sprach über Kronleuchter in lutherischen Kirchen des sächsischen Erzgebirges, die seit Ende des 17. Jahrhunderts und vor allem im 19. Jahrhundert im nahen Böhmen erworben und den Kirchen gestiftet wurden. Diese Kronleuchter waren direkte Vorbilder für die Weihnachtskronleuchter der Erzgebirger im Raum Seiffen, die diese sich selbst herstellten. Dabei verwendeten sie nur die ihnen zur Verfügung stehenden Materialien wie vor allem Holz.
Bettina K. Schneider berichtet über einen sehr stark zerstörten wohl sächsischen Glasarmkronleuchter des 18. Jahrhunderts, der von ihr mit ungewöhnlichen Methoden restauriert wurde. Damit er in der Dresdner Ausstellung "Von Spinnen, Engeln und dem Licht der Welt – Die Kronleuchter des Erzgebirges" die Metamorphose des höfischen Kronleuchters in einen erzgebirgischen darstellen konnte, ergänzte ihn die Dresdner Künstlerin Friederike Curling-Aust mit typischen erzgebirgischen Figuren.
Bettina Levin sprach von einer Sammlung von Glasperlenleuchtern aus dem Erzgebirge, die teilweise als Weihnachtsschmuck verwendet wurden. Die Perlen, partiell hohl und mit Innenversilberung, kamen aus Gablonz und Eisenbrod. Die Mode wurde in den 1950er Jahren wieder aufgegriffen
Antonio Cota Fevereiro gab einen Überblick über den umfangreichen Bestand der Oel und Petrol Lampensammlung des Palacio National da Ajuda. Die Lampen, die mit den Royals reisten, Beispiele von Proust-Lampen von 1780, Argand und Quinquet, Carcel, Astral, Sinumbra und Moderateur-Lampen von 1836 mit Glaskugeln und Trichtern. Dann ab 1853 Lampen mit Petroleum aus den USA. Die Lampen sind auf Glas- und Porzellanvasen montiert.
Jan Mergl hielt einen kurzen Vortrag über die Bedeutung von 200 Jahren Glas- und Lusterproduktion in Böhmen für die Wiener Firma Lobmeyr, die im Jahr 2023 ihr Jubiläum feiert. Erste Beispiele von 1842 im Wiener Wissenschaftsmuseum, die Bedeutung der Weltausstellungen in London, Paris, Antwerpen und Philadelphia. Entworfen von berühmten Künstlern der damaligen Zeit, hergestellt in Fabriken wie Harrachsdorf, Blumenbach und Gablonz.
Im Anschluss an die Vorträge, fand die Generalversammlung 2022 statt (wie im veröffentlichten Protokoll Protokoll Generalversammlung DE). Präsidentin Helena Koenigsmarkova berichtete über das Projekt Crystal Valley, die Aktivitäten der Mitglieder und schließlich über die Einladung zur nächsten Jahresversammlung 2023 in Wien im Museum für Angewandte Kunst mit der Ausstellung «200 Jahre Lobmeyr». Auch das Prager Museum für Angewandte Kunst UPM wird eine solche Ausstellung zeigen. Die Idee eines gedruckten Flyers für die Gesellschaft, um neue, jüngere Mitglieder zu gewinnen, und der Appell, andere dazu zu ermutigen, eine Bestandsaufnahme wertvoller Luster in jedem unserer Mitgliedsländer zu beginnen, so wie es in Litauen und derzeit in Österreich geschehen ist.
Das Treffen 2022 endete mit einem besonderen Dank an unsere Gastgeber, insbesondere an Maria João Burnay, die dieses Jahrestreffen so möglich gemacht hatte.
Einen gebührenden Abschluss erlebten alle im nahe gelegenen Restaurant Espaço Açores bei gutem Portugiesischem Essen und guter Laune.
Reportage von Peter Rath und Christina Perrin