Schloss Eggenberg, Graz, Austria April 27th – 30th 2017
Bitte runter scrollen für den Deutschen Text
Our meeting was planned to begin at 14:30 on Thursday but what with weather caprices and the various complications of travelling from so many different destinations in Europe, we had a little delay. The Meeting was opened by our President, Helena Koenigsmarkova who welcomes all attendees and hands the microphone over to the director of our host organization, the Universalmuseum Joanneum, Herr Dr. Wolfgang Muchitsch.
Our host and organizer, Mr. Paul Schuster then holds the first lecture of our series: "Shining a Light – on some aspects of light…." Mr. Schuster provides us with an introduction to our theme, covering the progression of the development of artificial lighting. This is something that was once very costly and therefore reserved for special occasions or for displaying wealth and power. He emphasizes how important lighting is in our everyday lives but today we take it for granted. Illustrated with many wonderful old graphics (paintings, lithographs, drawings) of how lighting was used in bygone days, this lecture sets the stage for Schloss Eggenberg as it is one of the few remaining interiors where one can enjoy a historical space lit in the way it was intended to be lit.
After three more lectures and some discussion, we return to our hotel "Das Weitzer" to meet Paul Schuster for dinner. Unfortunately his surprise of the Restaurant Aiola on top of the Schlossberg is a little dampened by the rain but in spite of the inclement weather, there is still a view of the city of Graz through the raindrops and we all enjoy the wonderful food and opportunity to renew or make connections with our colleagues.
For more information about our lecturers please see our previous post: Introduction Lecturers
Friday morning we have the opportunity to explore Graz a little and visit some of the other Joanneum museums with our pass. The entire afternoon and evening is spent in Schloss Eggenberg (separate report for candle-lit tour). Before dinner, the General Assembly was held (see Minutes here). One of the more important topics on the agenda being the Eliaska Project proposal and the request of the Light & Glass members for their support.
Saturday we are blessed again with a bit of sunshine, but most of our day was spent inside. In spite of this it is a welcome change as we tour the Schloss by daylight and then continue on with our lectures after stopping for our traditional "Group Photo" with the Planetary Room serving as the perfect back-drop. In the afternoon among the other lectures, Karel Kanak has some more exhibits for us to enjoy. He shows us a part of his collection of drip-pans and other chandelier parts as well as a number of hanging lanterns displayed in a separate room. In the evening, many of the members get together one last time for an informal meal in the Gösser Bräu and take in the last lights of the "Klanglicht" exhibition.
In addition to our hosts Paul Schuster and Barbara Kaiser we would very much like to thank Marietta Schieraus and Joachim Rathgeb and the rest of the team at Schloss Eggenberg for all of their help in making the event a success. It was an honour and a pleasure working with all of you.
Deutscher Text:
Unser Treffen war geplant, am Donnerstag um 14:30 Uhr zu beginnen, aber wir hatten ein wenig Verspätung mit dem Beginn. Was verständlich war mit den Wetterkapriolen und den Komplikationen des Reisens von so vielen verschiedenen Orten in Europa nach Graz. Unser Treffen wurde von unserer Präsidentin Helena Koenigsmarkova eröffnet, die alle Teilnehmer herzlich begrüßte und das Mikrofon an den Direktor unserer Gastgeberorganisation, des Universalmuseum Joanneum, Herr Dr. Wolfgang Muchitsch, übergab.
Unser Gastgeber und Organisator, Herr Paul Schuster, hielt den ersten Vortrag unserer Serie: "Leuchten des Lichtes – einige Aspekte des Lichts …" Herr Schuster gab uns eine Einführung in unser Thema, und zeigte damit den Fortschritt der Entwicklung der künstlichen Beleuchtung auf. Das künstliche Licht das einst sehr kostspielig war und daher für besondere Anlässe reserviert war oder um Reichtum und Macht zu zeigen. Er betonte, wie wichtig die Beleuchtung in unserem Alltag geworden ist, aber wir nehmen es heute für selbstverständlich an. Er illustrierte mit vielen wunderschönen alten Grafiken (Gemälde, Lithographien, Zeichnungen), wie die Beleuchtung in vergangenen Tagen verwendet wurde. Mit dieser Vorlesung bereitetete er die Präsentation vor für den Rundgang bei Nacht im Schloss Eggenberg, da es eines der wenigen verbleibenden Interieure ist, in dem man historische Räume erleben kann wie sie früher beleuchtet waren.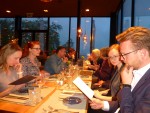 Nach drei weiteren Vorträgen und interessanten Diskussionen, kehrten wir zu unserem Hotel "Das Weitzer" zurück, um dann etwas später mit Paul Schuster zum Abendessen zu gehen. Leider ist seine Überraschung des Restaurant Aiola auf dem Schlossberg ein wenig durch den Regen gedämpft worden. Aber trotz des unvorteilhaften Wetters gab es dennoch einen Blick auf die Stadt Graz durch die Regentropfen und wir alle genoßen das wunderbare Essen und die Gelegenheit um Verbindungen mit unseren Kollegen zu erneuern oder neuen Kontakten zu knüpfen.
Für mehr Information betreffend unsere Referenten bitte sehen den Beitrag: Info Referenten
Freitagmorgen hatten wir die Gelegenheit, Graz ein wenig selber zu erkunden und andere Museen des Joanneum mit unserem Pass zu besuchen. Der ganze Nachmittag und Abend verbrachten wir im Schloss Eggenberg (siehe separaten Bericht über die Kerzenlicht Impressionen). Vor dem Abendessen fand die jährliche Jahresversammlung statt (sehen Sie Protokoll der Jahresversammlung hier). Eines der wichtigeren Themen auf der Tagesordnung war der Eliaska-Projektvorschlag und der bitte um Unterstützung durch die Light & Glass-Mitglieder.
Am Samstag segnete uns das Wetter wieder mit ein bisschen Sonnenschein, aber die meiste Zeit verbrachten wir im Schloss. Unser Tagesprogramm begann mit der  Schlossbesichtigung bei Tageslicht und zeigte uns wundervoll den Unterschied der Beleuchtung der Räume im Gegensatz zur nächtlichen Führung im Kerzenlicht. Als Abschluss der Führung durften wir im Planetenraum uns fotografisch verewigen mit unserem traditionellen "Gruppenfoto"  Nach einer Pause trafen wir uns wieder im Vortragsraum für das weitere Programm. Am Nachmittag fand neben anderen Vorträgen auch Karel Kanaks Ausstellungen statt die wir sehr genossen. Er zeigte uns einen Teil seiner Sammlung von Tropfschalen und anderen Kronleuchterteilen sowie eine Anzahl hängender Laternen in einem separaten Raum. Am Abend trafen sich viele Mitglieder ein letztes Mal zu einer ungezwungenen Mahlzeit im Gösser Bräu Haus und erfreuten sich danach den letzten Lichtinzenierungen der "Klanglicht"Ausstellung in Graz zu besichtigen.
Neben unseren Gastgebern Herr Paul Schuster und Frau Barbara Kaiser wollen wir auch ein ganz besonderen Dank auch an die Frau Marietta Schieraus und Herr Joachim Rathgeb und dem Rest des Teams im Schloss Eggenberg senden für all ihre Hilfe mit der die Veranstaltung so ein Erfolg wurde. Es war eine Ehre und ein Vergnügen mit Ihnen arbeiten zu dürfen.