Kronleuchter Restauration
please scroll down for English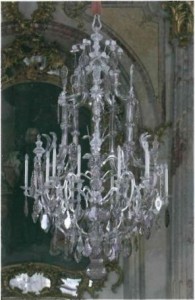 Frau Ingrid Stricker, Restauratorin für Kunsthandwerk mit Studium der Kunst­geschichte bei der Bayrischen Verwaltung der staatlichen Schlösser, Gärten und Seen, hat uns diesen Bericht zu Verfügung gestellt. Das Original wurde im "Restaurator im Handwerk 4/2017 Glas, Die Fachzeitschrift für Restaurierungspraxis" publiziert. Texte und Fotos sind Eigentum des Verfassers.
Mit "Lüster" wird ein historischer Beleuchtungskörper aus Glas oder mit Glasdekor bezeichnet. Der Be­griff entstammt dem französischen Wort "lustre"= glänzend, als am Hof König Ludwigs XIV. um 1700 die­se hochrangigen Dekorationsstücke und zugleich Gebrauchsgegenstände eingeführt wurden. lesen sie weiter…
Mehr Information zu dieser Publikation finden sie hier: http://www.restaurator-im-handwerk.de/zeitschrift-aktuelle-ausgabe-restaurator-handwerk
Restoration of Chandeliers
Mrs. Ingrid Stricker, restorer of arts and crafts at the Bavarian Administration of State Castles, Gardens and Lakes has kindly given us the permission to re-publish here an article regarding the restoration of chandeliers. This article appeared in its original form in "Restaurator im Handwerk, Die Fachzeitschrift für Restaurierungspraxis" (Applied Arts Restorer, The Trade Journal for Restoration) Issue 4/2017. The English version is a translation of the original, for the original German text and all the graphics, please see the German version in link above (lesen sie weiter).
"The German word «Lüster» (eng. Chandelier) is used in reference to a historic lighting fixture made of glass or with glass decoration, and is derived from the French word "lustre" = brilliant. This term was coined at the court of King Louis XIV, around 1700, as high-quality decorative pieces as well as everyday objects were introduced." Read more here…