Die Kleider des Lichts
Es war das Thema Licht und Klang, womit sich die Pfarre Eggelsberg in Österreich auf die Suche begab. Auf die Suche nach einer Lösung, die nicht nur die Räumlichkeiten beleuchtet, sondern nach einem Licht, das den Räumen mit den schönen Kreuzgewölben eine Seele einhaucht und gleichzeitig die Akustik durch die große Stoffmenge wesentlich verbessert.
Das Herzstück der Lösung sind die wundervollen Bäume mit ihren kräftigen Wurzeln, die symbolisch für den Pfarrer Markus stehen. Sie spiegeln die Verwurzelung mit seinem Glauben und die starke Verbindung zu seiner Gemeinde wider. Im Sekretariat, sozusagen im Vorgarten zum Pfarrer, umspielen die Gräser den Mittelpunkt des Raumes.
Durch die Technik der Faltenlegung, die von mir entwickelt und über die Jahre perfektioniert wurde, entsteht ein Licht- und Schattenspiel. Schatten dient als kreatives Element, welches für den Menschen die so notwendige Bekleidung des sonst nackten Lichtes unserer Tage darstellt. Die Einfachheit und Bescheidenheit der so entstehenden Lichtstimmung geben den Räumen eine menschliche Atmosphäre und kreative Neugierde. Dies ist ein wichtiger Weg zur neuen Beleuchtung von kostbaren Räumen durch die Erkenntnis, dass Licht in der Architektur mit seinen Schatten erst bekleidet ist.
Bericht von Margit Wimmer-Fröhlich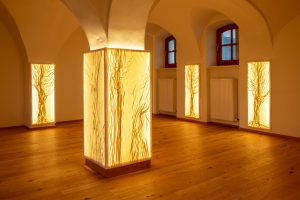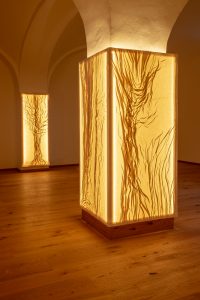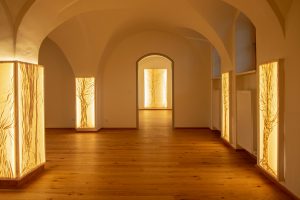 Clothed in Light
It was the subject of light and sound with which the Eggelsberg parish in Austria began its search. Looking for a solution that not only illuminates the premises, but also for a light that breathes a soul into the rooms with the beautiful crossed vaults and at the same time significantly improves the acoustics through the large amount of textile material. The heart of the solution are the wonderful trees with their strong roots, which are symbolic of Pastor Markus. They reflect the roots in his faith and the strong connection to his community. In the secretariat, so to speak in the front yard of the pastor, the grass surrounds the center of the room. The technique of folding, which I developed and perfected over the years, creates a play of light and shadow. Shadow serves as a creative element, which represents the necessary clothing for the otherwise naked light of our day. The simplicity and modesty of the resulting lighting mood give the rooms a human atmosphere and creative curiosity. This is an important way to re-illuminate precious rooms by recognizing that light in architecture is first clothed with its shadows.
Report by Margit Wimmer-Fröhlich