For those members who came early to Vienna it was possible to attend the grand opening on the evening of the 6th of June of the special Exhibition in the Vienna Museum for the Applied Arts "Glanz und Glamour – 200 years Lobmeyr". The exhibition curated by Alice Liechtenstein gives a beautiful feeling of the work produced by the family which continues in the sixth generation to work with glass and chandeliers.
On the following afternoon, Lobmeyr staged a hof-fest in the garden of their historic house on the Salesianergasse. The Lord Mayor of Vienna led the ceremony by formally opening the new workshops for cutting and engraving, and the guests were also free to visit the chandelier shops and the incredible archives of the old company. The artisans were on hand to demonstrate their crafts, some guests were lucky enough to be able to try engraving a 'mousseline' glass themselves, with the friendly help of the engravers. It was a wonderful opportunity to be able to not just observe, but to discuss the work with the craftsmen themselves. Despite cloudbursts on both evenings, the mood was not dampened and both events were well attended.
On Thursday June 8th the Light & Glass attendees gathered at the MAK for a special tour of the Exhibition "Glanz und Glamour" for the first welcome by the Museum with a tour by Peter Rath. His commentary and personal stories about the company drew the attention of more than just our group, other visitors were also fascinated by the insider information behind the company and exhibition.
At this time great thank-you is owed to our excellent office with Christina Perrin assisted by Olivier Perrin for their roles in the organization of this year's meeting, as well as to the MAK and to Director Arnbom the director of the Theater-Museum and their staff. A very special thank-you must also be made to both the family Rath and the Bakalowits, both made it possible for us to give a special insight into the world of Viennese lighting.
Once more, the meeting gave plenty of opportunity for personal conversation and exchange of ideas, during the Lectures (link with Programme) and during evening dinners and excursions.
After our visit to the MAK exhibition, we walked through the city, to reach our conference room at the Theater Museum on Lobkowitzplatz in the old Palais. After a short reception, we continued with the first lectures.
Maximilian Bakalowits spoke on "177 years- of chandelier manufacture Bakalowits – A family business since 1845" He showed numerous important chandeliers in Vienna and the continuing world-wide chandelier projects.
Dr. Jan Mergl as curator for glass in the museum for Decorative Art in Prague is now preparing an exhibition in the Prague Museum UPM, to open in November; "Neue Einblicke in das Glas und in die Geschichte von J. & L. Lobmeyr, Wien" ("New insights into the glass and history of J. & L. Lobmeyr, Vienna"). Mergl showed how he follows trails in his research, even identifying a chandelier on an old photo with the dated "Schnitte" (paper cutouts) of glass trimmings from the archives of Lobmeyr in Vienna.  The talk was greatly praised. As we had some extra time available, Dr. Mergl also obliged us with a short version of an earlier talk on The World Exhibitions around 1900, where he highlighted objects from the Viennese companies Lobmeyr and Bakalowits.
Peter Rath extended a short invitation, for members to attend a meeting of the Austrian working group "Bestandsaufnahme-Luster in Österreich" ("Inventory of Chandeliers in Austria) for the next day, June 9th in the National Office for Preservation of Monuments at 11.oo am in the Vienna Hofburg.
Full Speaker Program: Speaker Programme Eng
The General Meeting of Light & Glass Society (please see separate Report Annual Assembly, Protocol) took place before closing the activities for the day.
When the meeting ended, the group went deep into the vaults of the "12 Apostel Keller", a cellar which still shows some remains of Vienna having been attacked by the Turks back in 1683. There we enjoyed a buffet meal with much friendly exchanges of conversation.
On Friday June 9th; The participants met at the Lobmeyr workshops on the Salesianergasse 9, where after a brief introduction to the old historic Zahn buildings, where part of the Rath family still lives, we continued to the metal and chandelier workshops, moved on to the new glass cutting and engraving ateliers and finished the tour in the Archives, with their incredible collection of original artists' designs and workshop drawings, documents and family history going back to 1823.
Here Mr. Rath was able to show us some of the items that have become his life-work in recent years. He is of the opinion that it is one of the most important company archives still in existence. Unfortunately, in many companies, these records are discarded or lost over the years and the history cannot be traced.
At 11.oo am the group strolled through the city to attend the meeting of the "Working group Chandeliers in Austria" in the beautiful former imperial Dining room, the "Ahnensaal", seat of the National Office for the Preservation of Monuments. Mr. Rath, Mrs. Aglaja Bakalowits and Sophie Bakalowits showed us their progress on the inventory and their plans to list at least 1000 objects by the end of the year 2023. This small beginning intends to make other European countries also recognize a responsibility for creating an inventory of their chandeliers. This is something that the group feels very strongly about and tried to impress the same urgency on the rest of the group. Before we departed, Dr. Christoph Bazil showed us a few more of the Offices belonging to the Monument Preservation Society.
After a lunch break, we were able to tour the Hofburg Theatre. Mrs. Aglaja Bakalowits had kindly arranged for a tour which allowed us to see the wonderful Bakalowits lighting which was installed in the Theatre in the years following Second World War as the damages to the Theatre were repaired. The main crystal ceiling lighting in the hall is cleverly designed so that one does not notice the 6-meter difference in the height of the ceiling from the stage to the back of the hall from the ground level. Our Guide, Mr. ­­­­Karl Heindl, showed us all the main parts of the theatre, as well as the special gallery at the top of the building with drawings from Klimt and gave us an informative tour of the building, answering all our questions with great enthusiasm.
We had some free time afterwards and were delighted to be able to visit the Bakalowits premises and learn a little more about the company and its history.
We then met at the newly renovated Lobmeyr historical main store on the Kärntnerstraße 26  with an introduction by Andreas Rath, where it was possible for us to view the company's collection of glass, mirrors, and chandeliers. The private great glass collection of the Company Lobmeyr will be on view on the 2nd floor in autumn.
Saturday 10th June:
Frank Möller did not disappoint with his quite outstanding lecture on "The Chursächsiche Spiegelfabrik at Friedrichsthal in the Electorate of Saxony – Rediscovery of a forgotten Glass Factory and its Products." A mirror factory making exquisite objects combining fine metal work with opaline-white glass bodies. His research linking items from auction houses with drawings from old advertisements in magazines is impressive.
Alanté Valtaite Gagac spoke on "Chandeliers in Lithuania, from the territories of Austria and the Czech Republic mid-18th – mid 20th century". After her very complete inventory of special chandeliers in her country, she is now assisting as advisor with the work to be done to bring some of them back to their splendour with restoration work to be done.
Dr: Käthe Klappenbach gave a report of an unusual material used for chandeliers and other objects "Tin chandeliers from the Ore Mountains (Erzgebirge)". Her discoveries are published and she gives reason why in this part of the mining region, even the chandeliers were cast in tin, which has very special characteristics which limit the design and production of the objects.
A delicious light lunch was organized by the Theatre Museum Café and served in the courtyard, where we were also able to celebrate one participant's birthday. Fortunately, the rain made a pause so that we could enjoy sitting outside.
The group was also able to take a brief look at the museum with its spectacular puppet-theatre by Teschner, which is quite unique in the world, with the elegance of movement performed by his technically complex puppets.
Jaroslav Svacha spoke on the "Modern Glass Ceiling at Tiffany's 5th Avenue New York" Svacha discussing the difficulties of this special project. Together with partners like the Lasvit company and with his huge ovens, he manages to create the unexpected. Casting, fusing, cutting, and polishing – the ceiling came to life in the brilliant light of the building.
Tereza Svachova  The Society knows Tereza from her completed project for our intended Glass-Museum in the Historical factory building of Elias Palme in Kamenicky Senov. This time the young architect and her team have won the bid for  "The Czech Republic Pavilion for the Expo 2025 in Osaka, Japan" She explained the project, including the glass façade of her design, which seems quite a genius piece of Architecture as to outer form and specially in the way of function for such a great international show –we applaud.
Kristine Budze  A most interesting view on some of the finest chandeliers to be found in "Russian Chandeliers from Fischers Workshop" Outstanding metalwork, unusual hollow parts in coloured glass along the shafts, fine chains of the typical glass trimmings with the pointed ends, a lecture full of very unusual rare work. Peter Rath joined the discussion after having in 1971 copied the old Empire-chandeliers from the palace of Ostankino in Moscow.
Amy Hughes  spoke of her recently curated exhibition at the Corning Museum of Glass USA, "Local Colour, Secrets of Steuben Glass" An exhibition which showcases not just the incredible colour schemes developed by Frederic Carder but also his story as a European immigrant glassworker as well as the artisans that worked with him to achieve the success of the Steuben Glassworks.
The final evening was spent in the friendly Vienna "Gasthaus Müllerbeisl".
Report by Peter Rath, with additions and editing by Christina Perrin
Please scroll to the end to see all of the photos. Except where noted, all photos C. & O. Perrin
These and more photos in PDF Format Vienna Photo Montage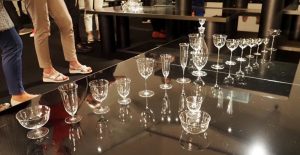 Deutsch Version

BERICHT JAHRESTAGUNG DER GESELLSCHAFT LIGHT & GLASS IN WIEN 8. bis 10. Juni 2023
Für die früh angereisten Mitglieder war es möglich, am Abend des 6. Juni an der Eröffnung der Sonderausstellung im Wiener Museum für angewandte Kunst MAK "Glanz und Glamour – 200 Jahre Lobmeyr" teilzunehmen. Die von Alice Liechtenstein kuratierte Ausstellung vermittelt
einen schönen Eindruck vom Schaffen der Familie, die auch in der sechsten Generation mit Glas und Lüstern arbeitet.
Am folgenden Abend veranstaltete Lobmeyr ein Hoffest im Garten ihres historischen Hauses in der Salesianergasse. Der Wiener Oberbürgermeister eröffnete feierlich die neuen Werkstätten für Schliff und Gravur, und die Gäste konnten auch die Lusterwerkstätten und die unglaublichen Archive des alten Unternehmens besichtigen. Die Kunsthandwerker waren anwesend, um ihr Handwerk zu demonstrieren. Einige Gäste hatten das Glück, mit freundlicher Unterstützung der Graveure selbst die Gravur eines Mousseline-Glases versuchen zu können. Es war eine wunderbare Gelegenheit, nicht nur zuzusehen, sondern auch mit den Handwerkern selbst über ihre Arbeit zu sprechen. Trotz Wolkenbrüchen an beiden Abenden wurde die Stimmung nicht getrübt, und beide Veranstaltungen waren gut besucht.
Am Donnerstag, den 8. Juni, versammelten sich die Light & Glass-TeilnehmerInnen im MAK zu einer Sonderführung durch die Ausstellung «Glanz und Glamour», zu der sie erstmals vom Museum mit einer Führung von Peter Rath begrüßt wurden. Seine Erläuterungen und persönlichen Geschichten über das Unternehmen zogen nicht nur unsere Gruppe in ihren Bann, auch andere BesucherInnen waren fasziniert von den Insiderinformationen über das Unternehmen und die Ausstellung.
Ein großes Dankeschön gilt an dieser Stelle unserem hervorragenden Büro mit Christina Perrin, unterstützt von Olivier Perrin für die Organisation des Jahrestreffen, sowie dem MAK und Direktor Arnbom, dem Leiter des Theater-Museums und seinen Mitarbeitern. Ein spezieller Dank geht natürlich auch an die Familien Rath, sowohl die Bakalowits, beide haben es uns ermöglicht, ein spezieller Anblick in der Welt von Wiener Beleuchtung zu geben.
Das Treffen bot einmal mehr reichlich Gelegenheit zu persönlichen Gesprächen und zum Gedankenaustausch, sowohl während den Vorträgen (Link zum Programm) als auch bei den abendlichen Abendessen und den Ausflügen.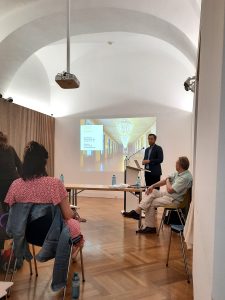 Nach dem Besuch der MAK-Ausstellung ging es zu Fuß durch die Stadt zu unserem Tagungsraum im Theater-Museum am Lobkowitzplatz im Alten Palais. Nach einem kurzen Empfang ging es mit den ersten Vorträgen weiter.
Maximilian Bakalowits sprach über "177 Jahre – Luster Produktion beim Bakalowits – Ein Familienbetrieb seit 1845" Er zeigte zahlreiche bedeutende Luster in Wien und die laufenden weltweiten Lusterprojekte.
Dr. Jan Mergl, der als Kurator für die Sammlung Glas, Keramik und Porzellan in Museum für Angewandte Kunst in Prag UPM eine Ausstellung im Prager Museum vorbereitet. Die im November eröffnet wird; "Neue Einblicke in das Glas und in die Geschichte von J. & L. Lobmeyr, Wien". Mergl zeigte, wie er bei seinen Recherchen Spuren verfolgt und sogar einen Luster auf einem alten Foto mit den datierten "Schnitten" von Glasgarnituren aus dem Archiv von Lobmeyr in Wien identifizierte.  Der Vortrag wurde sehr gelobt. Da wir etwas mehr Zeit zur Verfügung hatten, war es auch möglich für Dr. Mergl eine Kurzversion eines früheren Vortrages zu halten über die Weltausstellungen um 1900, in dem er Objekte hervorhob von den Wiener Firmen Lobmeyr und Bakalowits.
Peter Rath sprach eine kurze Einladung an die Mitglieder aus, am nächsten Tag, dem 9. Juni, um 11.oo Uhr im Landesamt für Denkmalpflege in der Wiener Hofburg an einer Sitzung der österreichischen Arbeitsgruppe "Bestandsaufnahme-Luster in Österreich" teilzunehmen.
Voll Programm, Vorträge: Vorträge Programme DE
Die Generalversammlung der Light & Glass Society (siehe separater Bericht Protokoll Jahresversammlung DE) fand statt, bevor die Aktivitäten für den Tag abgeschlossen wurden.
Im Anschluss an die Sitzung, begab sich die Gruppe tief in die Gewölbe des "12 Apostelkellers", einem Keller, der noch einige Überreste des Türkenangriffs auf Wien im Jahre 1683 aufweist. Dort genossen wir ein Buffet und tauschten viele freundliche Gespräche aus.
Am Freitag, dem 9. Juni, trafen sich die Teilnehmer in den Lobmeyr-Werkstätten in der Salesianergasse 9, wo wir nach einer kurzen Einführung
in die alten historischen Zahn-Gebäude, in denen ein Teil der Familie Rath noch immer lebt, zu den Metall- und Lusterwerkstätten weitergingen, die neuen Glasschleif- und Gravur Werkstätten besichtigten und den Rundgang im Archiv mit seiner unglaublichen Sammlung von Original-Künstlerentwürfen und Werkstattzeichnungen, Dokumenten und Familiengeschichte, die bis ins Jahr 1823 zurückreicht, beendeten.
Hier konnte uns Herr Rath einige der Gegenstände zeigen, die in den letzten Jahren zu seinem Lebenswerk geworden sind. Er ist der Meinung, dass es sich um eines der wichtigsten noch existierenden Firmenarchive handelt. Leider werden diese Unterlagen in vielen Unternehmen im Laufe der Jahre weggeworfen oder gehen verloren und die Geschichte ist nicht mehr nachvollziehbar.
Um 11.oo Uhr schlenderte die Gruppe durch die Stadt zur Sitzung des "Arbeitskreises Luster in Österreich" im wunderschönen ehemaligen kaiserlichen Speisesaal, dem "Ahnensaal", Sitz des Landesamtes für Denkmalpflege. Herr Rath, Frau Aglaja Bakalowits und Sophie Bakalowits zeigten uns ihre Fortschritte bei der Inventarisierung und ihre Pläne, bis Ende des Jahres 2023 mindestens 1000 Objekte zu erfassen. Dieser kleine Anfang soll dazu führen, dass auch andere europäische Länder ihre Verantwortung für die Erstellung eines Inventars ihrer Kronleuchter erkennen. Dies ist etwas, das der Gruppe sehr am Herzen liegt, und sie versuchte, dem Rest der Gruppe die gleiche Dringlichkeit zu vermitteln. Bevor wir abreisten, zeigte uns Dr. Christoph Bazil noch einige der Amtszimmer, die zur Denkmalpflege gehören.
Nach einer Mittagspause durften wir das Hofburgtheater besichtigen. Frau Aglaja Bakalowits hatte freundlicherweise eine Führung arrangiert, bei der wir die wunderbare Bakalowits-Beleuchtung sehen konnten, die in den Jahren nach dem Zweiten Weltkrieg im Theater installiert wurde, als die Schäden am Theater repariert wurden. Die Hauptkristall-Deckenbeleuchtung im Saal ist so raffiniert konstruiert, dass man den Höhenunterschied von 6 Metern zwischen der Bühne und dem hinteren Teil des Saals vom Boden aus nicht bemerkt. Unser Guide, Herr Karl Heindl, zeigte uns alle wichtigen Teile des Theaters sowie die besondere Galerie im oberen Teil des Gebäudes mit Zeichnungen von Klimt und gab uns eine informative Führung durch das Gebäude und beantwortete alle unsere Fragen mit großer Begeisterung.
Anschließend hatten wir etwas Freizeit und freuten uns, die Räumlichkeiten von Bakalowits zu besichtigen und ein wenig mehr über das Unternehmen und seine Geschichte zu erfahren.
Anschließend trafen wir uns im neu renovierten historischen Hauptgeschäft von Lobmeyr in der Kärntnerstraße 26, wo wir nach einer Einführung durch Andreas Rath die Möglichkeit hatten, die Glas-, Spiegel- und Lüstersammlung des Unternehmens zu besichtigen. Die große private Glassammlung der Firma Lobmeyr wird im Herbst im 2. Stock wieder zu sehen sein.
Samstag, 10. Juni:
Frank Möller enttäuschte nicht mit seinem ganz hervorragenden Vortrag über "Die Chursächsiche Spiegelfabrik zu Friedrichsthal im Kurfürstentum Sachsen – Wiederentdeckung einer vergessenen Glasfabrik und ihrer Produkte". Eine Spiegelfabrik, die exquisite Objekte herstellte, bei denen feine Metallarbeiten mit opalweißen Glaskörpern kombiniert wurden. Beeindruckend sind seine Recherchen, in denen er Objekte aus Auktionshäusern mit Zeichnungen aus alten Anzeigen in Zeitschriften verbindet.
Alanté Valtaite Gagac sprach über "Kronleuchter in Litauen, aus den Gebieten Österreichs und der Tschechischen Republik Mitte des 18. bis Mitte des 20. Jahrhunderts". Nach ihrer sehr umfassenden Bestandsaufnahme besonderer Kronleuchter in ihrem Land steht sie nun als Beraterin zur Seite, um einigen von ihnen durch Restaurierungsarbeiten wieder zu ihrem alten Glanz zu verhelfen.
Dr. Käthe Klappenbach berichtete über ein ungewöhnliches Material, das für Kronleuchter und andere Gegenstände verwendet wurde: "Zinn Kronleuchter aus dem Erzgebirge". Ihre Entdeckungen werden veröffentlicht und sie begründet, warum in diesem Teil der Bergbauregion sogar die Kronleuchter in Zinn gegossen wurden, das ganz besondere Eigenschaften hat, die die Gestaltung und Herstellung der Objekte einschränken.
Ein köstliches leichtes Mittagessen wurde vom Café des Theatermuseums organisiert und im Innenhof serviert, wo wir auch den Geburtstag einer Teilnehmerin feiern konnten. Glücklicherweise machte der Regen eine Pause, so dass wir draußen sitzen konnten.
Die Gruppe dürfte kurz das Museum besichtigen, mit seinem spektakulären Puppentheater von Teschner, das mit der Eleganz der Bewegungen seiner technisch komplexen Puppen weltweit einzigartig ist.
Jaroslav Svacha sprach über die "Moderne Glasdecke bei Tiffany's 5th Avenue New York" Svacha erläuterte die Schwierigkeiten dieses besonderen Projekts. Zusammen mit Partnern wie der Firma Lasvit und mit seinem riesigen Glasofen gelingt es ihm, das Unerwartete zu schaffen. Gießen, Schmelzen, Schneiden und Polieren – die Decke erwachte im strahlenden Licht des Gebäudes zum Leben.
Tereza Svachova Die Gesellschaft kennt Tereza von ihrem abgeschlossenen Projekt für unser geplantes Glasmuseum in der historischen Fabrikhalle von Elias Palme in Kamenicky Senov. Diesmal haben die junge Architektin und ihr Team den Zuschlag für den "Pavillon der Tschechischen Republik für die Expo 2025 in Osaka, Japan" erhalten. Sie erläuterte das Projekt, einschließlich der Glasfassade ihres Entwurfs, der in Bezug auf die äußere Form und vor allem in Bezug auf die Funktion ein geniales Stück Architektur für eine so große internationale Ausstellung darstellt – wir applaudieren.
Kristine Budze Ein höchst interessanter Blick auf einige der schönsten Kronleuchter, die in "Russische Kronleuchter aus Fischers Werkstatt" zu finden sind. Hervorragende Metallarbeiten, ungewöhnliche Hohlkörper aus farbigem Glas entlang der Schäfte, feine Ketten aus den typischen Glasbesätzen mit den spitzen Enden, ein Vortrag voller sehr ungewöhnlicher, seltener Arbeiten. Peter Rath nahm an der Diskussion teil, nachdem er 1971 die alten Empire-Kronleuchter aus dem Moskauer Ostankino-Palast kopiert hatte.
Amy Hughes sprach über ihre kürzlich kuratierte Ausstellung im Corning Museum of Glass USA, "Local Color, Secrets of Steuben Glass" Eine Ausstellung, die nicht nur die unglaublichen, von Frederic Carder entwickelten Farbschemata zeigt, sondern auch seine Geschichte als europäischer Einwanderer in der Glasindustrie sowie die Kunsthandwerker, die mit ihm zusammenarbeiteten, um die Erfolge der Steuben-Glashütte zu erreichen.
Der Abschlussabend wurde im freundlichen Wiener "Gasthaus Müllerbeisl" verbracht.
Bericht von Peter Rath, mit Ergänzungen und Bearbeitung durch Christina Perrin.
Alle Fotos C. & O. Perrin, außer wo angegeben.
Diese und mehr Fotos in PDF Format: Vienna Photo Montage