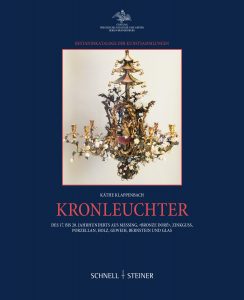 Kronleuchter des 17. bis 20. Jahrhunderts aus Messing, "bronze doré", Zinkguss, Porzellan, Holz, Geweih, Bernstein und Glas
Käthe Klappenbachs zweiter Bestandskatalog ist am 30.4.2019 im Verlag Schnell & Steiner Regensburg erschienen.  Er kann beim Museumsshop der Stiftung Preußische Schlösser und Gärten (https://www.museumswelt.eu/preussische-schloesser-gaerten/….-fach-stiftungspublikationen/) erworben werden. Bestellungen bitte an vertrieb@museumsshop-im-schloss.de. 
Bestellungen aus dem In- und Ausland erfolgen per Vorkasse.
The second edition of Käthe Klappenbuch's Inventory Catalogue, covering chandeliers from the collections of the Preussische Schlösser und Gärten, dating from the 17th to the 20th C., of brass, gilded bronze, zinc, porcelain, wood, antlers, amber and glass is available to purchase via the link to the publisher below from the 30th of April 2019.
Please order via the Museum shop of the SPSG : Museums Shop SPSG
Orders for Literature must be made via an e-mail to: vertrieb@museumsshop-im-schloss.de Orders must be paid in advance, please include all relevant information in your e-mail (Name, Address etc.)
mehr info via dieser Link / more info on the book in the link below
https://www.spsg.de/forschung-sammlungen/bestandskataloge/kronleuchter-ii/