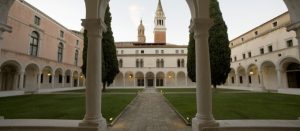 San Giorgio Maggiore, Venice, Fondazione Cini
Our Yearly Meeting is coming up fast! Here you can find all the information you need regarding our Agenda and Speaker Program. The accomodations on the island are now fully-booked but everyone is still welcome to attend the meeting with Lecture Serie.
This PDF has our Agenda for the weekend: Agenda English
General information for participants: Information for participants
This PDF has information about our lecturers: Lecture Program
Please find the choices for meals here: Meal choices Menu
PDF with Time Table for Vaporetto 2
Agenda for the General Assembly: Traktanden List – Agenda 2019
Unser Jahrestreffen steht kurz bevor! Hier finden Sie alle Informationen zu unserem Agenda- und Referentenprogramm. Alle Zimmern sind nun besetzt, aber jeder ist immer noch herzlich eingeladen, an dem Treffen mit der Lecture Serie teilzunehmen.
PDF mit Tagesplan für das Wochenende: Agenda Deutsch
Generell Information für Teilnehmer: Information für Teilnehmer D
Unser Vortrag Programm: Vortrag Programme, D

Finden sie die Menue Wahl hier: Meal choices Menu
Traktandenlist für die General Versammlung: Traktanden List – Agenda 2019